About us
Tata Consultancy Services is an IT services, consulting and business solutions organization that delivers real results to global business, ensuring a level of certainty no other firm can match. TCS offers a consulting-led, Cognitive powered, integrated portfolio of IT, Business & Technology Services, and engineering. In the Asia Pacific region, TCS is present in 11 countries including Singapore, China, Australia, New Zealand, Hong Kong, Taiwan, South Korea and 4 ASEAN countries – Indonesia, Malaysia, Thailand and the Philippines. With regional headquarters in Singapore, TCS has nearly 13000 employees operating out of 25 offices in the region. TCS' Asia Pacific operations began nearly 30 years back and we have since partnered with many of the largest businesses in the region and helped them in their transformation journeys.

A part of the Tata group, India's largest multinational business group, TCS' association with the region extends to wellbeing and community development through multiple sports sponsorships and our Community Innovation Program.TCS upholds an inclusive culture, where people are valued and encouraged to realize their potential and we pride ourselves on being an equal opportunity employer. TCS Asia Pacific leads the effort in this direction through various initiatives in the region, including creation of forums in support of the LGBTQI+ community in the Philippines and other programs emphasizing diversity and inclusion.

TCS Employee Value Proposition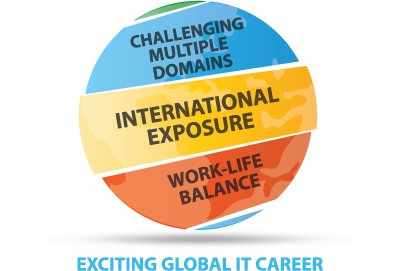 WORK LIFE BALANCE
At TCS we strive to create work-life balance to balance the career, ambition and the lifestyle aspirations of our colleagues. We have put together a number of programs that help you experience life from a holistic perspective and excel in different spheres of life.

INTERNATIONAL EXPOSURE
TCS opens door to a world of opportunities. Employees gain access to cutting-edge technologies and get hands-on experience on world-class projects on a global scale. This creates an opportunity to understand, interact, and work with people from cultures all over the world. Thus creating avenues for learning and experiences that empower you to be among the very best in the world.

CHALLENGING MULTIPLE DOMAINS
At TCS, we promote cross-domain experience that provides you with opportunities to function across different industry verticals, service practices, and functional domains. This not only helps you hone your skills across platforms but also helps you decide the domain where you believe you would fit the best.